Hey, welcome to my very first PRO episode. Just a heads up, this is only a preview, if you wanted to watch the extended version, you'll have to get a subscription.
In this episode, I will be running you through a bit of a crash course, on the terminology and tooling involved in running a larger production container stack. This can be a complex topic, so here is a brain dump of how I make sense of it all (map included).
What you are looking at, is a map that highlights the major functional categories that exist in most container stacks (highlighted in green here). These include things like, version control, continuous integration, orchestration, logging, monitoring, etc. Then, revolving around all these major category areas, are popular tools that enable these types of wanted functionality or workflows. For example, Github is extremely popular for Version Control, Jenkins for Continuous Integration, or Kubernetes for Container Orchestration, you get the idea.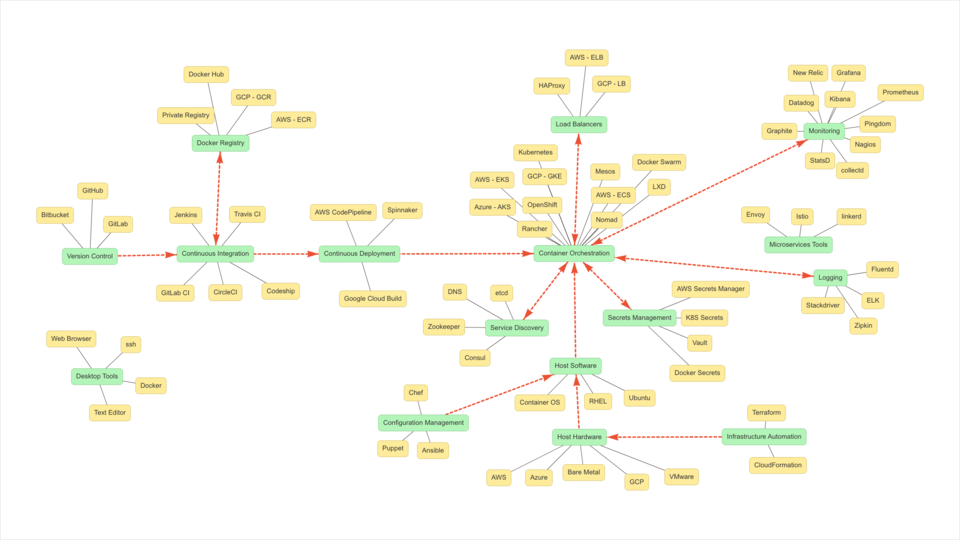 But, why create this map like this? Well, I wanted to give you a big picture view of what a complex system looks like, because individually these tools can be incredibly confusing for the uninitiated, as they often have strange names, and in isolation, their functionality often times make no sense.
To make my point. Let me run a couple phrases by you, that you might hear if you are reading up about running containers, or maybe watching a talk at a conference.
Here goes:
We are using Zipkin for Distributed Tracing
Oh yeah, we are using Zookeeper for Service Discovery
Istio is acting as our Service Mesh
Hopefully you are starting to see what I am talking about. If you do not have the mental map of how things are connected, this just does not make sense without context. This is why I created the map and act sort of a tour guide as we walk through it. But, this is different from, say a vendor specific reference architecture diagram, as we are looking at it from a higher-level. My goal is to help you get a more general sense of how things work vs a very specific use-case.
So, we are going to walk through, step-by-step, not only what the major functional categories of tooling are, but more importantly, why people are using them!
Alright, that concludes the preview of this episode. If you want to watch the full version, you'll have to have a subscription, you can learn more about them here.